Are you thinking about taking the GMAT exam?
There are many ways to achieve your target score. Using this GMAT score chart, find the best combination according to your situation.
You can find a good balance between time and accuracy with this method of preparation. It's also important that you practice as much as possible before the test day so that you don't have any surprises on test day! 
Read below to gain more information on our GMAT Score Chart. 
What is the GMAT exam?
Grad Management Admission Tests, or GMATs, play a key role in business school applications. A computer-adaptive, multiple-choice standardized test, the GMAT (Graduate Management Admission Test), is often required for admission to graduate business programs (MBA) worldwide.
The GMAT test is a common measure of how well applicants are prepared for graduate-level academic work developed and administered by GMAC.
To determine a candidate's readiness for the rigors of an MBA program, the admission committee looks at the applicant's GMAT score, academic record, and supporting materials.
What should we take away from this? Your business school application will be impacted positively by a high GMAT score.
How to get Free GMAT Classes Online for the GMAT Exam?
There are many ways to prepare free for GMAT Exam. Below we have listed some of the best ways to do so. 
1. Comprehensive GMAT Prep
Offered by e-GMAT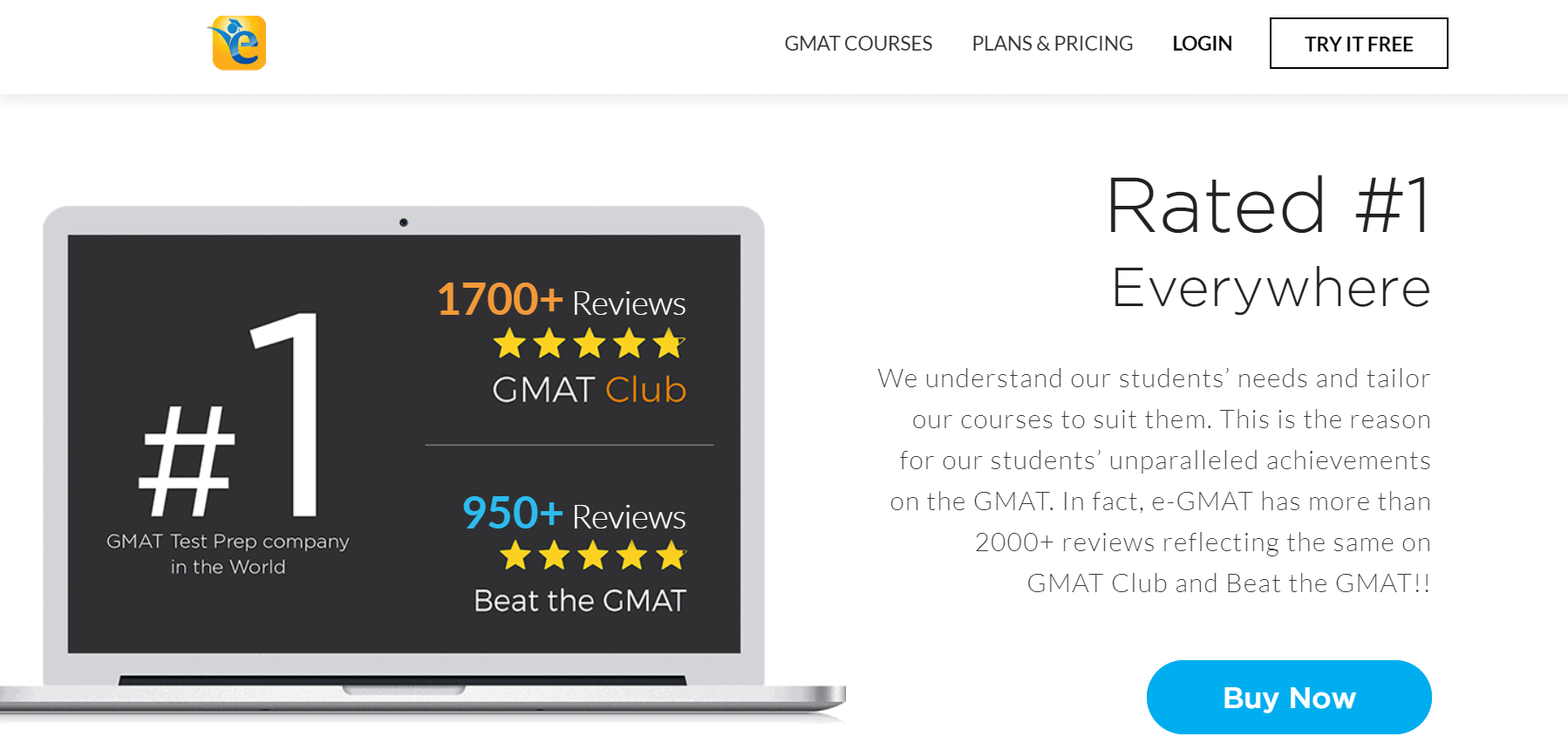 Through education, e-GMAT helps students achieve their goals and transform their lives. Since they want high-quality education to be available to everyone, they offer their comprehensive GMAT preparation resources for free on their website.
Among the website's contents are over ten hours of video tutorials on the GMAT as well as more than 400 practice questions that are similar to those on the GMAT. You can also have a customized GMAT prep experience by using AI-driven tools on the website. 
Even though this course isn't structured, it may be the most effective way to prepare for the GMAT. Your brain will be prepared for the hard reality of the exam by constantly challenging itself with new, personalized questions based on your struggles.
With its use of e-GMAT prep materials, e-GMAT claims to improve students' engagement and retention, allowing them to absorb the material in 40 percent less time. The best way to raise your good GMAT score to a great GMAT score is to prepare with e-GMAT. 
Cost: Free
Certificate: No
Time to Complete: Varies
Curriculum: Beginner to advanced 
User Experience: Excellent
2. Free GMAT Prep Course
Offered by GMAT Free 

Students can get more out of GMAT Free than they would through a paid program, and it is free. They claim that their site is designed for self-disciplined and motivated individuals, as they can work at their own pace and resume or stop their studies as needed.
Students can study between classes or shifts at their job with GMAT Free because it gives them a realistic amount of time to study. Practice questions that they provide will be similar to those that you will face on the test, and you will have a powerful toolbox to handle the exam by the time you appear on it. 
Over 800 realistic practice questions and over 600 review lecture videos are available if you access and use all the content on their site.
It will guide students through how to plan their study, ensuring they cover everything they need to know before they take the test in the first module of this free online GMAT course. If you are uncertain about how much studying you will need, GMAT free is a great place to start. 
Cost: Free
Certificate: No
Time to Complete: Varies
Curriculum: Beginner to advanced 
User Experience: Excellent
Quality of Instruction: Excellent
3. Preparing for the GMAT 
Offered by LinkedIn Learning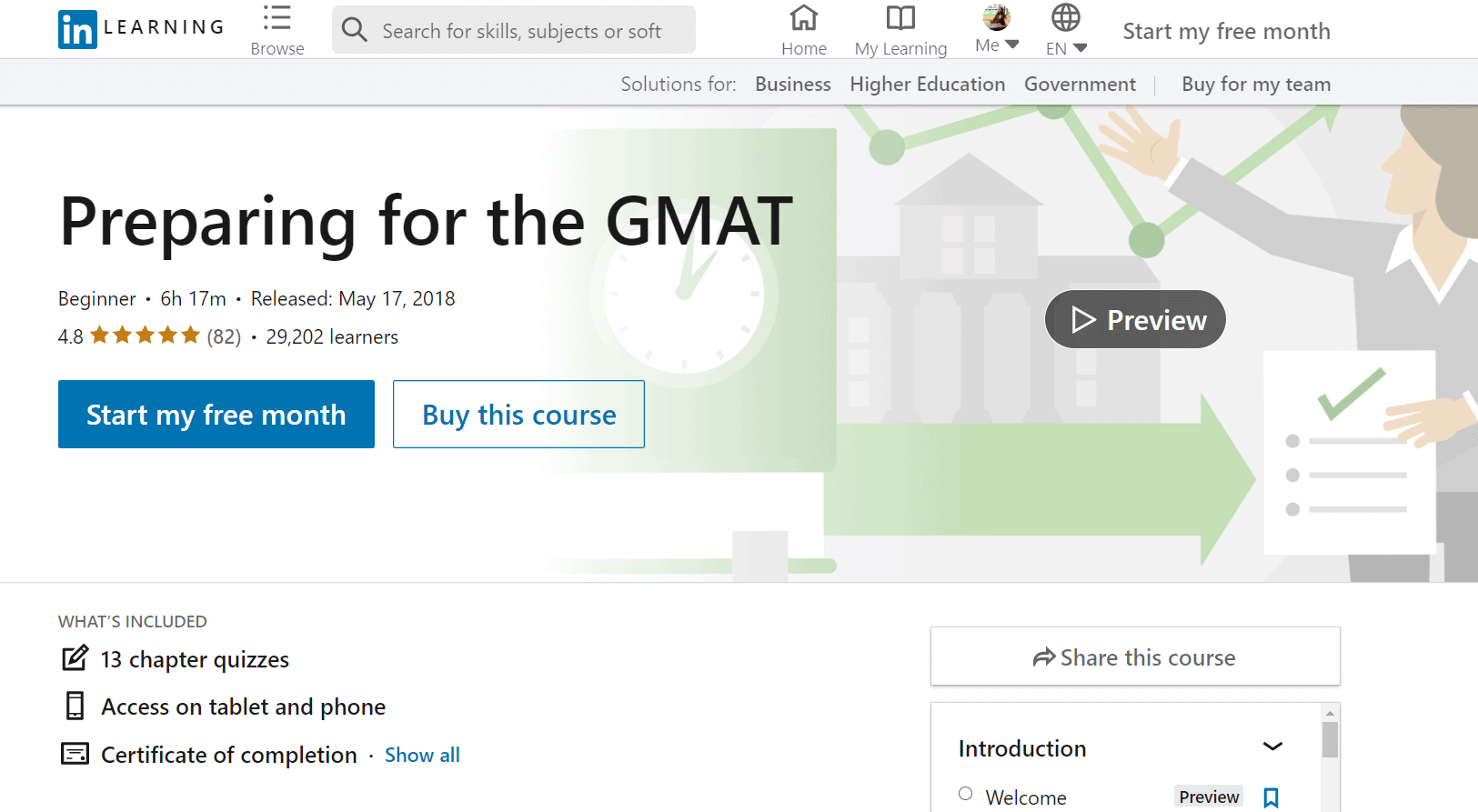 Vince Kotchian will guide students through a 6-hour course to prepare them for the GMAT, explaining the structure of the test and how to score well. As part of the GMAT prep course, participants will learn how to answer questions from all types of the GMAT.
Additionally, Vince will give you helpful advice on how to prepare for the exam and how to make sure you have the right tools for success. As of today, over 15,000 people have viewed the course on LinkedIn Learning and over 500 have given it a thumbs-up. 
Since 2008, Vince Kotchian has been a test prep instructor in San Diego, a longtime resident of Boston. The author has worked with thousands of students online and written several books, so he is confident that he knows how to assist students.
Vince is a passionate teacher who works with his students, using empathy and understanding to help them succeed. These courses (and many others) are free if you have a LinkedIn premium account. A one-month free trial of the platform is available for those who do not.   
Cost: Free Try a free trial for Linkedin Learning.
Certificate: No
Time to Complete: Approximately 6 hours
Curriculum: Beginner
User Experience: Excellent
Quality of Instruction: Excellent
4. Free GMAT Prep
Offered by the Manhattan Review
If you need GMAT preparation help or MBA admissions questions generally, The Manhattan Review is the place to go. A variety of free resources are available to assist future business leaders who aspire to earn an MBA.
There are multiple practice questions for every section of the GMAT at varying levels of difficulty. The questions allow students to familiarize themselves with the nuance of GMAT questions without the stress of taking the real thing.
It is not a structured course in the same way as some others on the list, but its quality is unsurpassed. 
A full practice GMAT test is also available from the Manhattan Review for those who want to test their skills in a format that closely matches the actual exam.
As well as being a full-length, timed exam, the practice test also features computer-adaptive responses just as on the actual test. The Manhattan Review may be your ticket to a high score if you don't want to be surprised on the actual GMAT exam day. 
Cost: Free
Certificate: No
Time to Complete: Varies
Curriculum: Beginner
User Experience: Excellent
Quality of Instruction: Excellent
5. GMAT Prep Course 1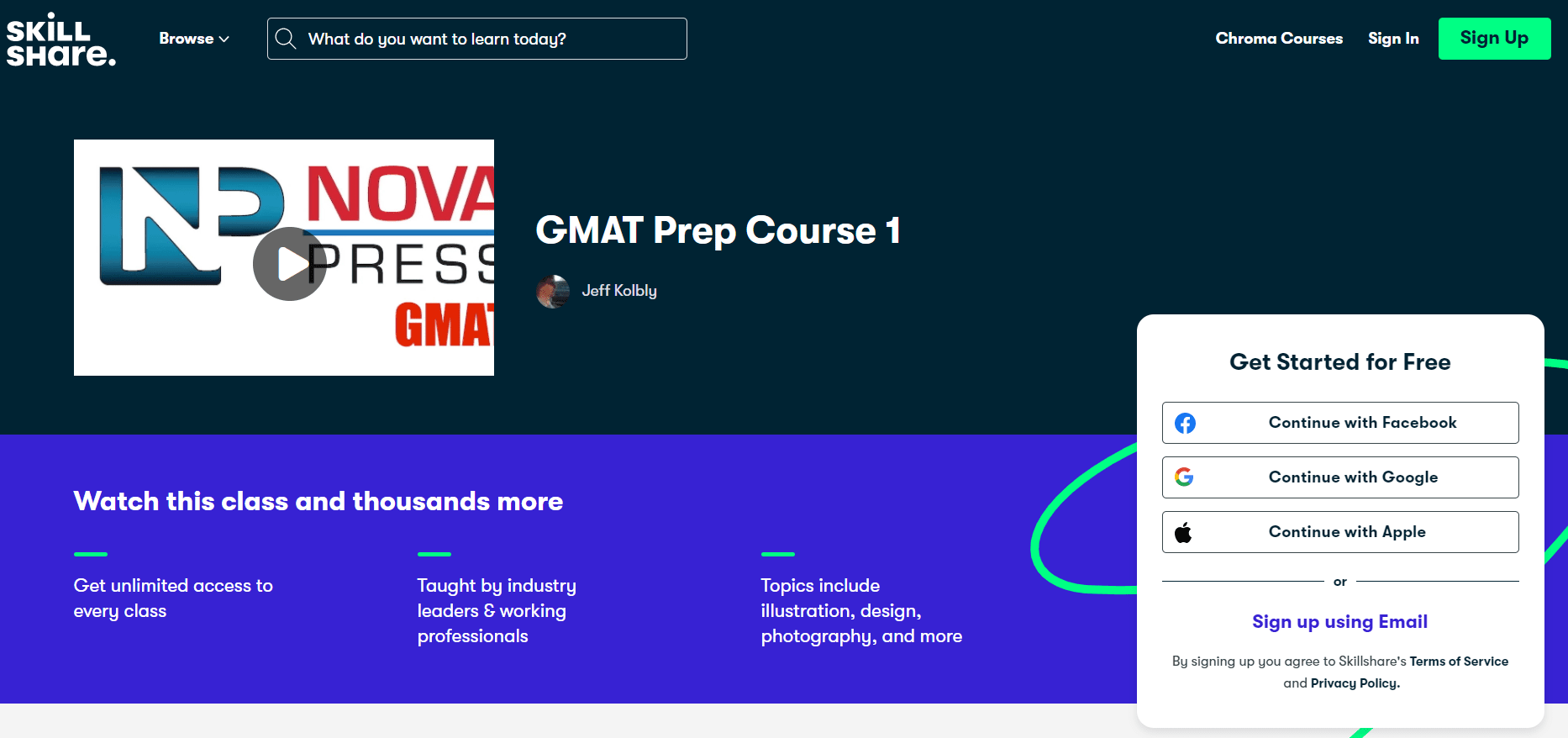 Offered by SkillShare
There are thousands of different courses offered by skilled instructors on the SkillShare platform, which is an online course platform that supports MOOCs (massive open online courses).
Students can access many of Skillshare's courses for free, in addition to a premium membership that offers additional benefits and access to more courses.
Even though this course by Jeff Kolbly is a premium course, students can try SkillShare Premium for free for seven days before they purchase the course. Taking the free online GMAT prep course will only take about two and a half hours. Students can complete it in a single sitting. 
The course will cover the GMAT orientation, how to structure the math questions, how to solve the problems, how to make notes, and number theory and defined functions.
This section of the exam is explained through 130 videos and 73 interactive exercises. Having written and taught in the test prep industry for more than 25 years, Jeff Kolbly is definitely qualified to assist you. 
Cost: Free (With SkillShare Premium free trial)
Certificate: No
Time to Complete: Approximately 2.5 hours
Curriculum: Beginner
What Score Do You Need to Pass the GMAT?
Passing is not possible. In any case, each school has its own minimum qualifying GMAT score. GMAT is a computer adaptive exam, as opposed to other exams. Adapting the questions to each student's competency is part of the test algorithm.
GMAT 700 –  No Guarantee
You might be able to gain an advantage if your score is 700 or above at schools that are not in the top 25. In contrast, the median GMAT score for top 10 schools is 700-730.
Sign up for online GMAT on-demand courses or GMAT tutoring services for expert help. In this case, the GMAT score will have the same weight as your essays, recommendations and interview.
GMAT Score – Class Profile
A comparative test, the GMAT is. Scores are expressed in percentiles, not percentages. Your score indicates how you rank in relation to other test takers. 80% Range, Median and Mean GMAT scores are important to note down when applying to a school.
How Long are GMAT Scores Valid?
Following the date of your GMAT exam, your score is valid for five years. GMAT scores, however, are valid for ten years. The score reports can be obtained by requesting a special score report (at a cost of $28). Older scores cannot be accessed in your account.  
What GMAT Percentile is Required for Top–Tier Schools?
As we discussed previously, your GMAT score can determine your admission into the business school of your choice. GMAT scores of 720 or above are generally required for top 10 MBA programs.
In a mid- to high-range business school (such as those consistently ranked between 25 and 80 on ranking lists like U.S. News), average scores of incoming students are usually around 600-700.
What do you need to do to determine your favorite schools' average GMAT scores? As soon as the incoming MBA class accepts their offers of admission, MBA class profiles like this one are published annually by Harvard Business School.
It's useful to look at class profiles to see how your background, work experience, GPA, undergraduate major, and, yes, GMAT score might fit into various schools.
In this article, we're going to examine average GMAT scores at a range of 15 different MBA programs. There are some schools that report the 'middle 80% range' as part of their class profiles
GMAT Percentiles
Please find below copies of the GMAT percentile charts for Verbal Reasoning, Quantitative Reasoning, and Total Score. The importance of high Verbal Reasoning scores slightly exceeds that of high Quantitative Reasoning scores.
Due to an asymmetry in the population taking GMAT tests, this is the case. The quantitative section is typically stronger for non-American students and the verbal section is usually weaker. Those who are more of a poet than a quant will benefit greatly from acing the verbal section of the GMAT.
Quick Links 
FAQs: GMAT Score Chart
😳Is a GMAT score of 710 good?
The MBA experts say that a GMAT score of 650-690 is good, and a 700-plus score is excellent.
🤩What is the difficulty level of scoring 800 on the GMAT?
The GMAT is scored on a scale of 200 to 800. Combining the quantitative and verbal subscores on a scale of 6-51, this score is derived. There are a little over 30 questions in each section of the Quantitative and Verbal sections. It would take a perfect 51 on both Quant and Verbal to get an 800.
🔥How do you determine a good GMAT score?
Your MBA application will be competitive if you have a good GMAT score. Your MBA profile will determine how good your GMAT score is.
👆Is 730 a good GMAT score?
Typical GMAT scores for business schools like Harvard, Stanford, and Wharton are 730. So anything above 730 should be considered a good GMAT score if you are aiming for top business schools. GMAT scores also depend on your profile and the average GMAT score of the B-school you're targeting.
🙋‍♀️What is the score range of the GMAT?
Scores on the GMAT can range from 200 to 800.
👍The GMAT is 99 percentile based on your scores. What should I score?
For a 99 percentile score, you should score at least 760 on the GMAT.
🤔How does a GMAT 700 score translate into a percentile?
If you score 700 on the GMAT, you are in the 88th percentile.
Conclusion:  GMAT Score Chart 2022
Consequently, GMAT scores play a significant role in admission into business and management programs, and a score of above 700 or above 88% will really be helpful. However, test-takers who practice with the GMAT papers can achieve the required score.
In general, a good GMAT test score is 20+ points higher than the average score of the incoming class for the business school you are applying to.
The GMAT test score is determined by the following factors:
Correctly answered questions
These questions have an average difficulty level
Your GMAT scores are accessible only by Business School Admissions committees. The MBA application process considers the highest GMAT score out of these scores.
An unofficial score report is provided immediately after the test, while an official score report is delivered within 20 calendar days.

Getting a scholarship for your dream MBA Program is largely dependent upon your GMAT score, which carries the most weight in the MBA application process.